Solaria Asset Management expertise spans the entire spectrum of solar system solutions.
Our experts provide services from the design, implementation and management of systems for Real Estate Owners to the financing and optimising system performance and returns for our investors.
Our flexible solutions benefit both our Real Estate and Investment Partners. Installation & Implementation
We provide end to end solutions for both roof top and ground mounted systems Maintenance of Solar Systems
Installing Solar shouldn't be complicated. Our team will advise our Real Estate partners on the benefits of various solutions including Self Investment and Ownership vs our unique but highly beneficial, "Nil Investment" Model, and everything in between!
Solar is a long term play. Our team partners with only the highest quality manufacturers and our in-house development team will ensure the optimum system is developed for the long term.
(holistic and multidisciplinary approach) 
✓ Long term stable and predictable returns. 
✓ Yearly recurrent revenue stream with solid IRRs 
✓ Optimization of equity investment through leverage 
✓ Clear exit strategy for monetization of capital gains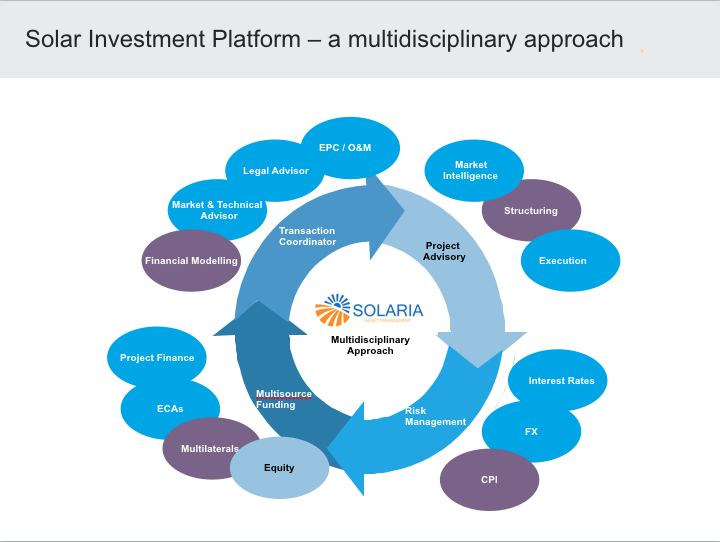 Why work with us?

Solar Investment Platform – a multidisciplinary approach
Solaria Asset Management has extensive experience in coordinating regular reporting protocols to investors on projects' operational and financial performance.
Solaria Asset Management's knowledge and strong network with local and international players throughout the solar value chain gives us a unique angle to source and select the right projects and partners to establish a solid and sustainable solar investment platform.